Feeding the Soul
Every once in a while, it's good to slow down and just enjoy the natural beauty of Maine. After most of the tourists have left, there is plenty of room to look around, just sit and read a good book [How the South Won the Civil War by Heather Cox Richardson], and eat some great Down East cooking (we really enjoyed scallops and graham cracker pie at Helen's in Machias). COVID-19 was also a factor in our little vacation: the lobby of a well-known donut shop was closed in Machias. Most of the restaurants were closed, with some only open certain days of the week (for lack of staff or to share the fewer visitors, perhaps). We saw some magical images with the ice coating trees, backlit. And miles of beautiful snowy scenes along the road between Cherryfield and Ellsworth. Maine is a treasure.
While I have your attention, here are a few more interesting videos I watched recently (including some terrific music); the original Godzilla for viewers on the left coast and a Russian Sherlock Holmes (with subtitles or just brush up your Russian).
Grab Bag Mind Reflections
November 14th, 2021. When you have an overwhelming urge to share some of the cool videos you have been watching with friends and family, what is easier than attaching files to an email? Posting the files here with a link! I know some of you would prefer Facebook or a WordPress blog (or Wix or whatever), but this is actually quicker and easier for me.
In a never ending search for knowledge and understanding, I have come across these videos. They might not answer the "big questions", but they do pass the time interestingly when you are house-bound or just looking for a distraction from whatever. I find answers to some of my questions (e.g., "What is so complicated about wearing a mask during a pandemic?"). Finally, if you love cats but can't own one, the Japanese have a great idea: visit one!
WIDGET AS BACCHUS is a great print for cat lovers. Melinda Copper has provided some great still life art of fruit and wine around Widget. This print is available in an unframed image size of 9"x10". Click on the image to visit the Wildlife Prints website to buy the print (and to find many similar prints).
Time Flies when You're Drinking from a Firehose
Military Industrial Complex Cost by M. Wuerker - News, Analysis and Opinion from POLITICO. Cost of the war in Afghanistan is just a drop in the bucket.
Anonymous meme found on the internet. I have to agree; they don't call me "Mr. Grumpy' for nothing!
Tax cuts for the rich! I recently stumbled upon the Cisco Kid vs Donald Trump images in a comic art series created by Kosmo Vinyl; I have always admired the work of José Luis Salinas. This is a terrific way to share the artwork and let it serve another useful purpose (i.e., political commentary).
Vinyl describes Cisco as "the Robin Hood of the border" and chose him as a vehicle in part because, given that the popular The Cisco Kid TV series ran from 1950-56, there's a fair chance Trump would have watched it as a kid.
Too Many Major Issues to Juggle!
Republican Response to Insurrection Investigation by Christopher Weyant - courtesy of Cagle Cartoons.
Extra Terrestrial Comments on Our Response to Climate Change by Pat Byrnes - courtesy of Cagle Cartoons.
Should we be wearing masks again? - Probably. Source: Bangor Daily News
Temperature Changes in the Northeast - 1895-2018. Source: Washington Post
There's lots more, but we'll stop here for now.
Democracy at Work (with an Oligarchy Behind the Scenes)
Infrastructure Upgrade Needed by Dave Granlund - courtesy of Cagle Cartoons. How they will ever reach an agreement to do anything sensible is still a pretty big mystery.
Can Hackers Cripple Our Economy?
Cybersecurity Hackers by John Darkow, Columbia Missourian - courtesy of Cagle Cartoons. The past few weeks have seen several high profile ransomware attacks: Colonial Pipeline, JBS (the world's largest meat processing company), and others (e.g., Marriott and Fedex). And don't forget the SolarWinds hack. Darkow cleverly juxtaposes our cyber concerns with the amazing act of courage by a teenager to save her mother's dog!
Source of The Big Lie!
For some people it is just hard to accept losing an election!
National Library Week!
Show your library some love!
Fifty-Seven Senators with Integrity
We're Not In Kansas Any More, Toto!
Pro Trump Mob Storms Capitol - courtesy of Cagle Cartoons. This is a very dangerous moment in our history; it is not the first time disagreements over how government should be organized and conducted have led to tension, but armed insurrection is not an acceptable way to express disappointment or disapproval. This is domestic terrorism. We should investigate and hold accountable anyone and everyone associated with the violence and disrespect and damage caused at the Capitol on January 6th. It is time to finally address the flaw in our system that allowed matters to deteriorate into mayhem in Washington, D.C.
No Signs of a Trump Concession Yet
Road Map from Election to Inauguration. To keep up with all the surprises that will occur before and after election day, I highly recommend that you sign up for Letters from an American, a daily blog by Heather Cox Richardson. It has taken a while for all the votes to be tallied, but most of the country has recognized that Joe Biden will be the 46th President of the United States. President Trump and his loyal supporters persist in their allegations of a fraudulent election, even after the courts have ruled against their claims. Footdragging by the outgoing administration is the rule of the day. There is still a bit more drama to be had (and Trump is milking his supporters for hundreds of thousands of dollars in donations, purportedly to fight to overturn the accepted results of the election, but which appear to also be designed to line his pockets for other purposes). "Stay tuned", as they say.
Does Dunning-Kruger Effect Apply to Trump?
Strange illusions shape Trumps views. In trying to protect America, he may unleash a killer that already claims 200,000 lives each year.

This bias helps explain why Trump has left the Paris Climate Agreement, with potentially disastrous implications for climate change.

Voiced by Stephen Fry.
Does this analysis from 2017 still hold up as we limp toward the 2020 Presidential election? Does it help to explain his response to the COVID-19 crisis?
Reality Strikes Again!
Trump and Bannon in the Swamp - courtesy of Cagle Cartoons
A Picture Is Worth A Thousand Words
Pleasant Thought
TWIT-IN-CHIEF
Cartoon by Clay Jones
In his excellent essay [TWITTER VS. TWITLER], Clay Jones says "For Donald Trump, persecution is having the standards everyone else has to live by being applied to him." This captures brilliantly the frustration that many of us feel as Trump continues to rampage with Twitter. One can only wonder why it took Twitter so long to take this step. The mainstream media's conflict of interest (eyeballs equals money) has led to our political conversation being driven by tweets from a narcissistic sociopath. Freedom of speech? How about the freedom to recognize an attempt to destroy governmental norms that have allowed our republic to survive since the 18th century? How about the freedom to set the record straight about "alternative facts"? I am glad that Twitter did not take down the tweets and did not shut down his account. Freedom of speech means he can say what he wants. If he spews vile accusations and inaccuracies that hurt other people, he should be judged the same way anyone with a Twitter account is judged. He is not a king. And he is not a particularly good role model. Be best, Donald. Work with the Congress to help the citizens of this country to survive the pandemic. If you must tweet, try to avoid forcing the fact checkers to disagree with your assertions so often.
A Face to Remember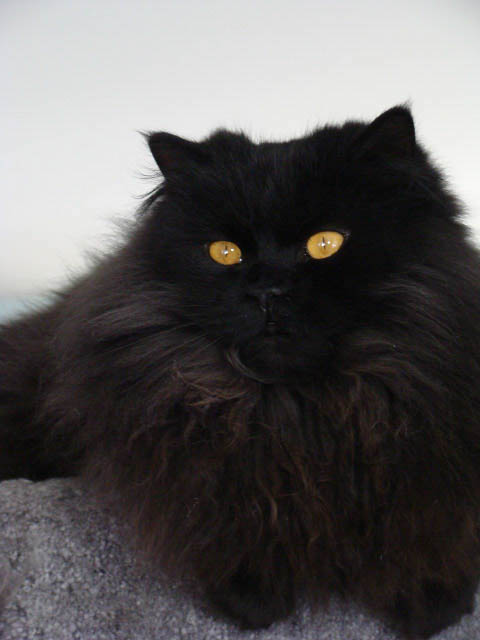 Photo by Gale Davison
Falla, Lord of all he surveys. Gone, but not forgotten.
Who Was That Masked Man?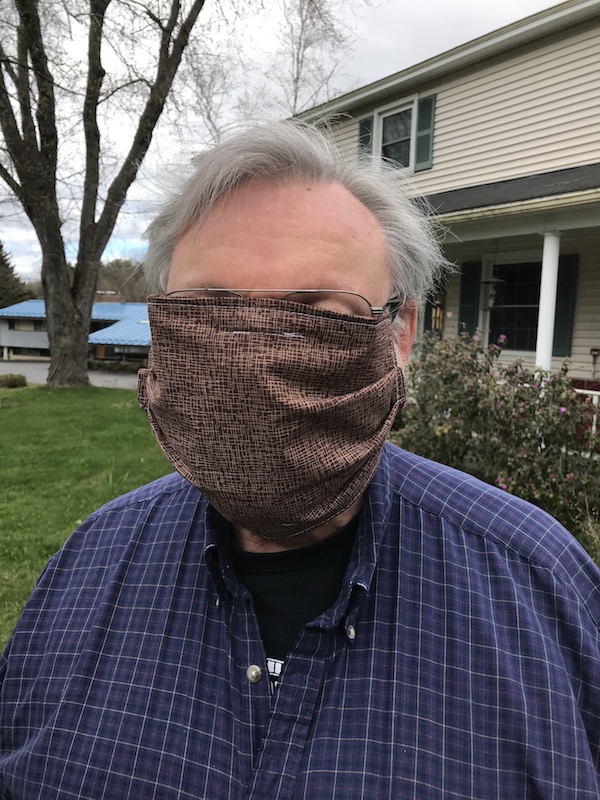 There is an army of people stepping up to help with the shortage of face masks. When the government doesn't step up, Yankee ingenuity often plays a role. I am still working on getting the mask on straight (as you can see), but when I pull it down a little, it fits perfectly.
Note: If you click on the image, you can see a more stylish version (which is how I see myself); refresh the page to see me again.
Wake Up Call On Earth Day
If you are concerned about climate change and/or solar power and/or renewable energy or extinction, please consider watching Planet of the Humans - a free movie that will make you think about where we are now and where we are headed. Back in 2019, Michael Shellenberger gave a TED Talk on a similar theme: Why renewables can't save the planet. There has been a lot of outrage and dismay from the left about this controversial film: Michael Moore, filmmakers respond to criticism of new bombshell environmental film. You owe it to yourself to watch the film and decide for yourself whether it's crap or food for thought.
Groucho Marx Knew How to Shake a Leg!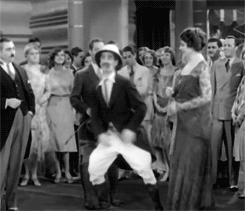 Sometimes it helps to watch an inspirational video to help us get through the day. I really enjoyed seeing "Old Movie Starts Dance to Uptown Funk". Maybe you will, too.
Note: Click on Groucho to stop the animation; refresh the page to see Groucho dance again.
I Know A Fine Line When I See One
Shared on Facebook. Good one.
Bernie is Still My Hero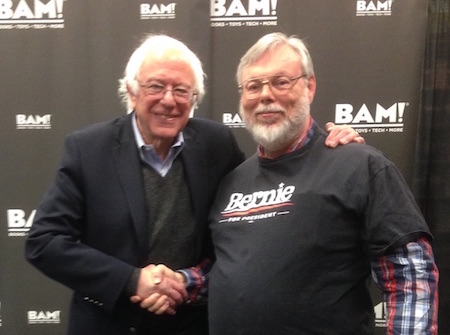 When Bernie decided to suspend his campaign, my hopes and dreams for a progressive President were dashed. I know Bernie will continue to fight on for the values, policies and programs that I support. He was right when he said it wasn't about him. It was and is and always will be about the struggle between those who have more than they need and those who need more than they have. Deciding where to draw that line has always been tricky. And it still is. Perhaps more now than ever. Between the coronavirus pandemic and climate change, it seems there is little bandwidth to consider issues of justice and fairness these days. But these issues will never go away. We just have to keep working on them. Every day. Bernie is right to inspire the young people of this country to try to realize these hopes and dreams. Soon it will be their turn in power. And I suspect they will do a better job than we did.
Leo Was a Fighter
Once upon a time in the seemingly far distant past, long before the coronavirus pandemic, a suburban family grew up and shared their house with a number of cats [a pretty big number of cats], but there was one cat that stands out in our memories: Leo. He got into fights with other cats, with dogs (and who knows how many other animals). For years he escaped death against all odds. I remember him hanging precariously half way up a chain link fence in an attempt to escape a dog (or dogs, my memory isn't that good). In the end he did go on to kitty heaven. But his memory is still with us. This photograph does not do him justice. But it does help us to remember him a little.
Another Good Example of Why Maine is The Way Life Should Be
The Bangor Daily News sends me an email every day with featured stories from their current issue. I really appreciate the view from a bit further north, especially George Danby's cartoons and the editorials.
Message From Number One Son
Animated gif 'harvested' from New York Times subscription solicitation email and massaged by PhotoScape X
Every once in a while, I find a technology that just seems to fit the occasion! I hope you are enjoying your crossword puzzles and the recently returned decent weather. See you soon.
Goodbye, Facebook!
Meme created with iMeme
Saying Goodbye to Facebook At Last.
For the record, I have been contemplating this move for a long time. I am not trying to convince you to do likewise, but I thought you might appreciate some of the information that led me to decide that I really don't want to participate in Mark Zuckerberg's business model any longer. You can always continue to interact with me using email (until and unless They shut it down).
Pertinent Links:
In its 14 years of existence, Facebook has done as much to sow discontent and shred privacy as it has to connect people.


The Editorial Board, centralmaine.com [Kennebec Journal | Morning Sentinel]
Tweeting as National Discourse
Insightful Collection of Presidential Tweets from The Daily Show with Trevor Noah
... a curated collection of Trump's most profound and revealing tweets that allowed everyday Americans to literally walk through the President's mind.
Review: This is the sort of book you might want to take out from the library and peruse rather than study. I found the commentary to be far more enlightening than the tweets themselves. Perhaps that is just a reflection of my own cognitive skills or personality type. Your mileage may vary. Trevor Noah fans will not be disappointed.
Please read these tweets in the spirit in which they were composed: with an open heart and with legs straddling the toilet of your choice.
- Trevor Noah
For him, attention is all. As president, he has raised narcissism to Homeric heights ...
- Jon Meacham
I won't share any of the tweets here; suffice it to say that they are probably a representative sample (I couldn't say because I stopped paying attention to them shortly after he took office).
Taking Time to Enjoy Life
photo by Gale Davison
Sometimes it is worth remembering that tourists and summer people pay significant sums of money to enjoy the beauty of the Maine coast. We paid three dollars to visit the Fort Point State Park recently, taking a rest from the constant barrage of stressful news and medical appointments. Not only did we enjoy seeing the lighthouse and the Penobscot Bay (including the tidal sandbar), but we also watched a beautiful schooner [not a Friendship Sloop, after all] heading out to sea. Right across the bay from Wilson Point! Thanks to my Friendship Sloop expert for the correction.
For more information about the park, check out the Parks and Lands website.
Here is the real thing (Friendship Sloop Chrissy out of Bar Harbor, Maine). The one thing that is characteristic of every kind of sloop, Friendship or otherwise, is that it has only one mast. It makes me feel better to learn that they do spring from the same tradition and have similar lines. Learn something new every day! In my defense, let me just say that "the dog ate my homework".
Anatomy of a Trump Tweet!
After an exhausting two years of Trump tweets, I have decided the best way to process them is to ignore them.
A far more valuable use of your time would be to watch Stephen Colbert's great monologue about the horrific Florida school shooting or Thomas Friedman's comments on the danger to our democracy of the Trump presidency [on the Last Word with Lawrence O'Donnell for 20 Feb 2018].
Apparently some of the children are so angry and so disgusted by the lack of meaningful response from the government that they have spoken out and confronted lawmakers in Tallahassee, demanding that they do something to make their schools safe. Some are even planning to just walk out of school if something isn't done to protect them. This is a clear and unambiguous message to adults to start listening to the future of the country and stop listening to the special interests telling them to just allow the status quo to continue. Good for them! I hope they all walk out together [all over the country] and serve notice that they are not going to put themselves in harm's way any longer. All it would take is a single tweet or Facebook post to get it started. Maybe that is what it would take to finally get some action on this awful problem that has cost so many innocent lives.
Everyone Loves a Parade!
You'd think there would be enough rational people in our government to see that it is foolish to spend millions of dollars on a parade instead of fixing infrastructure, restraining corruption and fighting the scourges of racism, poverty and global climate change. You'd think that. You'd vote accordingly. You'd remember this (and the enormous transfer of wealth from you to the wealthiest people in our country), etc.
Here is a news story from the Associated Press; follow the link to read Andrew Taylor's piece on the estimated cost for the parade idea.
He Persisted!
A growing chorus of irresponsible and reckless Republicans is calling for Trump to shut down Special Counsel Robert Mueller's investigations. On Wednesday, Senator Mark Warner, the top Democrat on the Senate Intelligence Committee, warned the Senate in a floor speech:
Any attempt by this President to remove special counsel Mueller from his position or to pardon key witnesses -- in any effort to shield them from accountability or shut down the investigation -- would be a gross abuse of power and a flagrant violation of executive branch responsibilities and authorities. These truly are red lines and we simply cannot allow them to be crossed.
Many experts are saying that Trump could try to fire Mueller during the holiday season when people are distracted. We need to ensure Congress is ready to begin impeachment if Trump commits this criminal act. This opinion comes to you from the Bold Progressives (via email); follow the link to read their latest news articles.
The Net Neutrality Crisis
Right now, you can go online and connect with friends, watch videos and read the news. There's a good chance you are reading this online right now.

We do much more on the internet than consume content, however. Increasingly, the internet is also where we create. We use online platforms and digital services to develop, share and spread ideas around the corner and around the globe.

This is the open internet experience we all know, and it's a big part of why America's internet economy is the envy of the world.

But this week, the leadership at the Federal Communications Commission put forth a plan to gut the foundation of this openness. They have proposed to end net neutrality, and they are trying to force a vote on their plan on Dec. 14.
Op-Ed: I'm on the FCC. Please stop us from killing net neutrality by Jessica Rosenworcel in the LA Times
Maine Makes National Headlines Again
Maine is in the headlines again, but in a good way this time.
Maine will become the 33rd state to expand Medicaid under the Affordable Care Act, extending coverage to as many as 89,000 low-income residents. Maine is the first state to expand Medicaid during the Trump administration, and also the first to do so via a ballot initiative rather than legislation. This offers a possible playbook for health care advocates in other states looking to extend coverage but stymied by political opposition. Medicaid expansion actually has a fair amount of bipartisan support in Maine. Earlier this year, I wrote about a Republican state legislator named Tom Saviello who has repeatedly introduced bills to expand the Medicaid program. "The people I represent need this," he told me. "It's as simple as that." The legislature had actually passed five separate bills to expand Medicaid prior to the ballot initiative. But Maine Gov. Paul LePage, a Republican, has vetoed all of them. Unsurprisingly, LePage had also been a vocal opponent of the Tuesday ballot initiative.
Read the whole story at Vox. For LePage's reaction, please check out The Young Turks video; I can't say unbelievable because Governor LePage does not seem to think the people of Maine should have anything to say about how he "governs". Republican legislators don't seem to have any appetite for curbing his behavior. Hopefully the voters will have something to say about that next year.
Burn, Baby, Burn!
My View: President Trump has been getting a bum rap [or is it a bum wrap?] on his position about climate change. He believes in climate change, alright. He believes in exacerbating it. Happy breathing (while it lasts). Thanks to Steve Sack at the Star Tribune (and to the Waterville Morning Sentinel editorial page) for sparking my thoughts on this burning issue today.
Whirlwind Presidency
To be honest, I have lost track. There seems to be a new train wreck just about every day now in the news. I no longer know whether to believe any of it, so I have taken up reading books again. They are surprisingly satisfying compared to the barrage of horrible news that rains down on us every day in the media. Basic decency and rational thought often appear in the books I have chosen. How refreshing!
He said, Xi said.
As far as I know, I am the first to stumble on this interesting coincidence in pronunciation of the General Secretary of the Communist Party of China's name.
Sorry, we need your seat!
Sometimes you have to wonder about this country. They say change is good, but I have a sinking feeling that the kind of change that is taking place at this point is not very healthy for the average citizen (and especially not for Asians or Muslims). This does not bode well for the tourist trade. Don't take my word for it, it's in all the papers and all over the internet.
Women's March!
Something extraordinary is happening in this country. "More than 2 million people across the world, led by hundreds of thousands who overwhelmed the nation's capital, protested the first full day of President Trump's tenure Saturday." - USA Today
Tweeter-in-Chief Almost President!
In a very interesting interview with Democracy Now, Pulitzer Prize-winning journalist Glenn Greenwald takes the Washington Post to the woodshed over its fake news about infiltration of Kremlin propoganda in a whole range of media outlets and about the completely false reporting about an attempt by Russia to hack into the electric grid of the United States through a Vermont utility. For the interview and links to the article in The Intercept.
Washington Hears Dakota!
You may want to check out the Mid-Maine Progressive Forum weekly newsletter for articles about the pipeline controversy; Bernie Sanders calls for a full environmental and cultural impact analysis at a National Day of Action event.
The new web site for the Mid-Maine Progressive Forum is Live!
The new site is still a prototype, but should be a good platform for us to begin to interact with each other. In addition to the blog, you will also find contact information, feedback forms and access to our weekly newsletter (which generally contains more news than you have time to read, but organized so that you can just read what you want or have time for).
The primaries are over, the national conventions have happened, and now the dog days of summer are here
Thanks to WorldArtsMe for the clip art.
There is so much happening these days that I have resorted to emailing a week's worth of links at a time instead of updating this space with a tiny amount of insight. For those of you who missed these emails, I will be incorporating the links into the thematic collection of links on the Articles and Images Related to Bernie Sanders page.
I have recently joined the silver tsunami so I'm hoping to have more time to keep this page current.
---
---
Where to Invade Next (2016)
Michael Moore's excellent new, irreverant and timely film helps us to see how Bernie's plan could improve the lives of everyday Americans. His sharp wit helps us to see the absurdity of a handful of people hoarding the abundance of the United States while the rest of us toil away with minimal vacations, feeding our children less than delicious food and giving them a less than fabulous education. He implies that we are convinced by clever marketing that we are the greatest nation in the world (but not providing the American dream to all of our citizens). I won't give away the plot, but you would probably share my reaction to news about how some countries in Europe view paid vacations, nutritious food and good healthcare for everyone. But it's not all humor all the time; Moore shows a very disturbing side of America that may shock you, as he shocked me with insights into institutional racism.
---
---